> back
---
> 2008
> 2009
> 2010
> 2011
> 2012
> 2013
> 2014
> 2015
> 2016
> 2017
> 2018
> 2019
> 2020
> 2021
> 2022
> 2023
> 2024
> 2025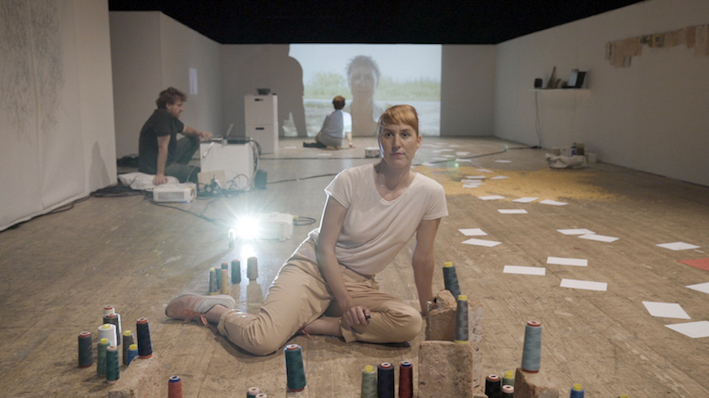 October 28, 2020 / 5.30 pm
RODEO 2020: Judith Hummel


Wo komme ich her? Gehen – von Rumänien nach Deutschland.
MIRA Einkaufszentrum
Judith Hummel's live installation planned for March 2020 at Köşk will now be shown as a film at the dance and theater festival RODEO 2020.

Film and talk about stage 1: Săcălaz - Szeged. In walking, in going back, Judith Hummel explores her own origins and lays a trail around the fields of memory and body. On several stages, accompanied by her mother Margret and the camerawoman Laura Kansy, she follows the route of her grandmother, who fled from Romania to Germany in 1944. In June 2019 they will walk the first part of the route from Săcălaz, the home village of their grandparents, to Szeged in Hungary. An installation with video, sound, memorabilia and live moments will be created from material recorded along the way. Due to Corona, the work has experienced a turn: A film has been created - a documentation of the scenic moments, the images and sounds in the room - and yet a new, independent work.


---

Artistic direction, protagonist: Judith Hummel
Protagonist: Margret Hummel
Video, photo, cut: Laura Kansy
Sound: Tim Neuhaus
Artistic assistance: Stephanie Roderer
Dramaturgy: Ulrike Wörner von Faßmann
Choreographic assistance: Heidi Schnirch
Light design: Charlotte Marr
Decor: Katrin Schmid
Artistic advisor: Ruth Geiersberger
Route: Juliane Huth
Video technician: Jens Baßfeld

The film is online: youtube


---

Venue
MIRA Einkaufszentrum
Schleißheimer Str. 504
80993 München

---
More about the festival
RODEO 2020
---

Gefördert durch das Kulturreferat der LH München sowie von der Kulturstiftung der Stadtsparkasse München. Judith Hummel ist Mitglied des Tanztendenz München e.V. Wir danken der Firma JOSTRA für die Unterstützung!

---

Tanztendenz Munich e.V. is sponsored
by the Munich Department of Arts and Culture