> back
---
> 2008
> 2009
> 2010
> 2011
> 2012
> 2013
> 2014
> 2015
> 2016
> 2017
> 2018
> 2019
> 2020
> 2021
> 2022
> 2023
> 2024
> 2025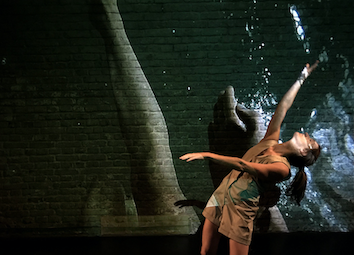 November 05 to 07, 2020 / 8:00 pm
Manasvini K. Eberl


Tasting Water
Einstein Kultur / Halle 4
Water on the skin can be an intense body experience. It is inevitable. When body and water meet, there is an immediate reaction depending on the state of the water: warm, cold, icy, liquid, solid, droplet, rushing, flowing.

The installative solo video performance "Tasting Water" invites the audience to experience the element of water in a new way (and to stay dry at the same time): Water is constantly changing, is the symbol for cycles and for life. "Tasting Water" is a dialogue of dance and video, in water, under water, on water, on the water. Together with the video artist Manuela Hartel and in choreographic accompaniment of the dancer and choreographer Daniela Graca Schankula, Manasvini K. Eberl deals with the effects that water has on the body. The boundaries between water-video and dance-body become blurred.


---

Artistic direction, Choreography, Tanz: Manasvini K. Eberl
Video: Manuela Hartel
Choreography: Daniela Graca Schankula
Dramaturgy: Martina M
Sound: Marco Pflamminger
Costum: Sarah Silbermann
PR: Pfau PR

---

Venue
Einstein Kultur / Halle 4
Einsteinstr. 42
www.einsteinkultur.de

---
Tickets
www.eventim.de
---

Gefördert durch das Kulturreferat der Landeshauptstadt München und mit freundlicher Unterstützung von Tanztendenz München e.V.

---

Tanztendenz Munich e.V. is sponsored
by the Munich Department of Arts and Culture