Our Mission
Fine Art Needs
Independance

It is our goal to aid this independence for Munich based freelance choreographers who work in the field of contemporary dance.
[ more ]

---
Venue


schwere reiter



An experimental venue for the independent scene for in-house productions, cooperations and guest performances for dance, music and theatre and performance. [ more ]


---

SCHWERE REITER TANZ
November 26 to 28, 2020 / 5 to 10 pm


Sixth International Choreographers' Atelier


border zones :: an exploration space
Six media stations with selected films and lectures mark the opening of the Choreographers' Atelier 2020/2021 and invite you to an exploratory journey through the myriad concepts surrounding the idea of "border".
[ More ]
---


December 01 to 10 2020


Residency Timothy Nouzak


5.th edition 'Common-Works'
In December Timothy Nouzak will work in Tanztendenz on the 5th edition of his project 'Common-Works'. Herefore Timothy is looking for artists:

Open Call Timothy Nouzak

[ More ]


---

Tanztendenz Munich e.V. is sponsored
by the Munich Department of Arts and Culture
October to December


Tanzkalender



Inform yourself regularly about contemporary dance and performance in Munich.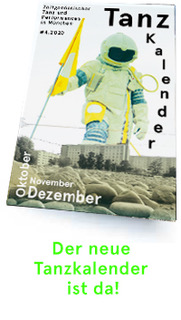 DOWNLOAD
SUBSCRIBE
---

Always up-to-date


Newsletter



We send out a newsletter with all contemporary dance premieres in Munich. In addition we publish information on workshops and courses that Tanztendenz and its members organize.

SUBSCRIBE