> back
---
> 2008
> 2009
> 2010
> 2011
> 2012
> 2013
> 2014
> 2015
> 2016
> 2017
> 2018
> 2019
> 2020
> 2021
> 2022
> 2023
> 2024
> 2025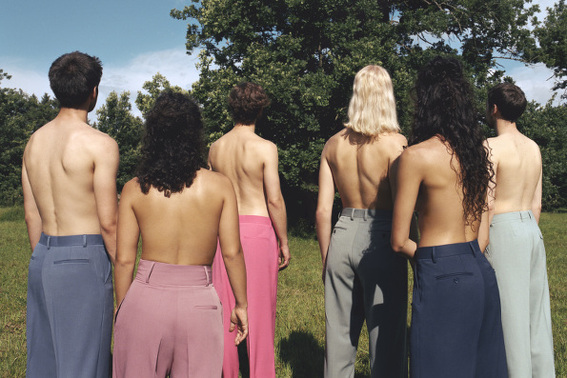 September 18 to 19, 2021 / 11 am + 6 pm
Cristina D'Alberto
Arcadia
Münchner Stadtraum
An exploration of idyll and concrete: we are surrounded by curated plants. The nature around us is shaped by us. It is subject to the decisions of its gardeners. We retreat into these landscaped green spaces and come to rest. Gardens and parks allow an illusion of naturalness. Geometric shapes, water features, and memories of times past allow us to escape reality. Between appropriation and distortion, the desire to establish ourselves in a place and leave traces is manifested. How does this approach to nature reflect our society?

At three different locations in Munich, the ensemble of dancers and musicians directs a focus on the question of formed nature and natural self-evidence.

---

Team
Choreography, artistic direction: Cristina D'Alberto
Dance: Sara Campinoti, Erica D'Amico, Siri Persson, João Santiago, Chiara Viscido
Music: Leonhard Kuhn, Moritz Stahl
Choreographic assistance: Sara Campinoti
Dramaturgy: Martina Missel
Photos: Michael Weniger
Production management: Lara Schubert
Press and public relations: Claudia Illi
The project, music and choreography are developed in collaboration with the participating artists*.

---

Venues
September 18 || 11:00 am | Import/Export, Schwere Reiter Str. 2
September 18 || 18:00 pm | MIRA Shopping Center, Schleissheimer Str. 506
September 19 || 11:00 am + 18:00 pm | Seebühne im Westpark, Westendstr. 305

---

Tickets
10,00 EUR / erm. 5,00 EUR
Reservation at missel@riseup.net

---

In cooperation with Circus Hub and Tanztendenz e.V. Supported by the NATIONAL PERFORMANCE NETWORK - STEPPING OUT, funded by the Federal Government Commissioner for Culture and the Media as part of the initiative NEUSTART KULTUR. Support Program Dance.

---

Tanztendenz Munich e.V. is sponsored
by the Munich Department of Arts and Culture