> back
---
> 2008
> 2009
> 2010
> 2011
> 2012
> 2013
> 2014
> 2015
> 2016
> 2017
> 2018
> 2019
> 2020
> 2021
> 2022
> 2023
> 2024
> 2025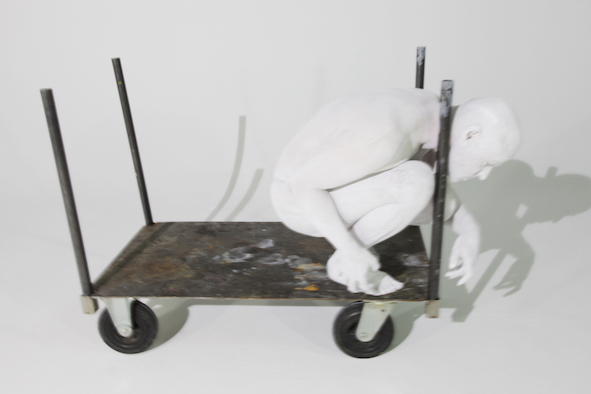 October 08 to October 10, 2021 / 6:30 pm
Stefan Maria Marb


Zero – an installation
Das Klohäuschen
The installation "Zero" by performance artist Stefan Maria Marb takes a special pause after his long creative break and celebrates a creative zero state, which, in the context of a public installation from October 8 to 10, provides the audience with intimate insights into a fundamental artistic creative process. Pauses, gaps and empty spaces set the rhythm of what happens or doesn't happen, in which the artist puts himself in a kind of meditation and waits for the creatively right moment, the kairos, as the ancient Greeks would say. Accentuating this state is interrupted by music recordings, minimal performances and readings from various writings, including from the as yet unpublished work of the author "Butoh- between the worlds".

For the anti-performative texture of "Zero", the art space of the KloHäuschen proves to be tailor-made, being historically a visceral place where elementary basic needs were quickly "taken care of" over many years. "Zero" consciously picks up on this history, but in doing so moves on an oppositely slowing time track and sees in this chthonic metropolitan space, which is linked to the underground sewers of the metropolis, the metaphor of a birthing station in which artistically fundamental new things can emerge. It is an easily overlooked oasis, a utopian retreat, at Munich's bustling Grossmarkthalle, which "Zero" wants to explore and enliven.

---

Times
Start: October 8, from 6:39 pm physical presence of the artist
October 9, from 6:37 pm physical presence of the artist
October 10, from 6:35 pm physical presence of the artist

The artist will be present on each of the three days from the moment of sunset for an unspecified period of time. This will result in a public installation that is constantly changing.

---

Venue
Das KloHäuschen
Thalkirchner Street / corner Oberländerstr.
Grossmarkthalle Westtor
81371 Munich
The KloHäuschen

---

Tickets
Admission free

---

The event takes place as part of the measures to animate das KloHäuschen at the Grossmarkthalle, a project of realitaetsbüro / Anja Uhlig, sponsored by the Cultural Department of the City of Munich. Stefan Maria Marb is a member of Tanztendenz München e.V.

---

Tanztendenz Munich e.V. is sponsored
by the Munich Department of Arts and Culture