> back
---
> 2008
> 2009
> 2010
> 2011
> 2012
> 2013
> 2014
> 2015
> 2016
> 2017
> 2018
> 2019
> 2020
> 2021
> 2022
> 2023
> 2024
> 2025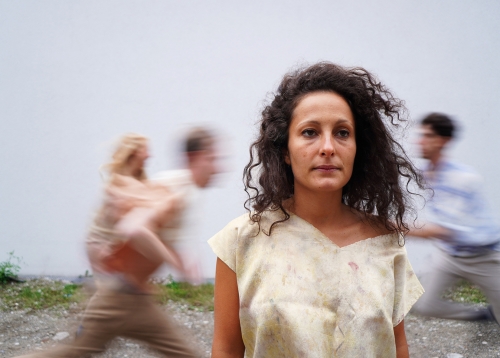 October 22 to 23, 2021 / 8:30 pm (Fr) + 6:00 pm + 8:30 pm (Sa)
Cristina D'Alberto


Anthologie/Blütenlese
schwere reiter, Neue Halle
Insights into experiences and moments from the lives of all people are worth telling, regardless of great deeds and success. "Anthologie/Blütenlese" is a performative attempt to collect life stories from a wide variety of Munich residents and to abstract them for the stage. The starting point for this presentation are four dancers. They unite the complexity of the stories in their bodies and reproduce them as individual interpretations. The performance allows a glimpse into the individual pieces that make up the puzzle of our personalities and reveals valuable similarities and differences. This creates agreement to support each other and strive for community.

---

Team
Performance Sara Campinoti, Robert Hemming, Alessandro Marzotto Levy, Lotta Sandborgh
Choreography and artistic direction Cristina D'Alberto
Dramaturgy Martina Missel
Stage & costume design Michele Lorenzini
Costume design Alessandra Guttagliere
Composition Leonhard Kuhn
Video design Ikenna Okegwo
Lighting Michael Bischoff
Understudies Siri Persson, Sonja Golubkova
Scientific advice Stefano Piemontese
Production Management Lara Schubert, NN

Developed in collaboration with the performers
Original cast of the world premiere: Sara Campinoti, Robert Hemming, Hillel Perlman, Lotta Sandborgh.

---

Venue
. heavy riders, new hall
Dachauer Strasse 116
80636 Munich
Streetcar 12, 20, 21 or bus 53
Stop Leonrodplatz
www.schwerereiter.de

---

Tickets
17,- / 10,- Euro erm.
Reservation absolutely necessary: www.schwerereiter.de

---
---

We would like to give special thanks to our interview partners, without whom this project would not have been possible. With many thanks to Iwanson International. In cooperation with Tanztendenz München e.V. This project is supported by the Cultural Department of the City of Munich. The premiere was supported by the Cultural Department of the City of Munich and the Bavarian State Association for Contemporary Dance (BLZT) with funds from the Bavarian State Ministry for Education and Culture.

---

Tanztendenz Munich e.V. is sponsored
by the Munich Department of Arts and Culture