Our Mission
Fine Art Needs
Independance

It is our goal to aid this independence for Munich based freelance choreographers who work in the field of contemporary dance.
[ more ]

---

Venue


schwere reiter



On Thursday, September 16, we opened the new building of the schwere reiter together with the theater (PATHOS Munich) and music (scope - spielraum für aktuelle musik). Mayor Dieter Reiter and our architect Lukas Mahlknecht were the laudators!
Now it is there the new house and was already inaugurated with 21 artistic contributions in the context of "geöffnet - we are open" (September 17th + 18th).
So: Go there - here is our full schedule: schwere reiter


---
schwere reiter
29. − 30. September 2021 / 8:30 pm


Zufit Simon


Schäume
The project uses the foams with their "unstable stability" as a metaphor for the constitution of modern societies, as an image of today's realities of life. An exploration of the field of tension in which the individual stands in relation to the masses.

More

Tanztendenz Munich e.V. is sponsored
by the Munich Department of Arts and Culture
September + Oktober


Tanzkalender



Inform yourself regularly about contemporary dance and performance in Munich.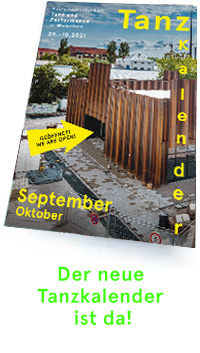 DOWNLOAD
SUBSCRIBE
---

Always up-to-date


Newsletter



We send out a newsletter with all contemporary dance premieres in Munich. In addition we publish information on workshops and courses that Tanztendenz and its members organize.

SUBSCRIBE