RESIDENZEN
---
Gerbes & Brandstätter
Adam Linder
Charles Linehan
Daniele Ninarello
Ursula Nill
Miriam Jakob
Anne-Mareike Hess
Rosemary Butcher
Michael Schmidt
Petra Fornayová
GÄSTE
---
Sebastian Blasius
Stefan Dreher
Inge Engel
Jasmine Ellis
Stephanie Felber
Caroline Finn
Alberto Franceschini
Babette Galli-Jeschek
Sabine Glenz
Annett Göhre
Judith Hummel
Sabine Karb
Jan Lau
Mia Lawrence
Marie Lykkemark
Justine Maxelon
Moritz Ostruschnjak
Ceren Oran
David N. Russo
Mey Sefan
Zufit Simon
Yasmin Schönmann
Dali Touiti
Rosalie Wanka
Chiang Mei Wang
Franziska Zöpfel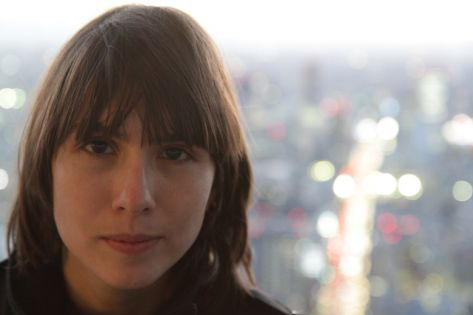 Miriam Jakob

Gast im Rahmen des Residenzprogramms der Tanztendenz
17. bis 30. März 2014

Produktionsvorhaben: Travelling to the four corners of the earth
[ Trailer auf Vimeo ]
Beteiligte
Miriam Jakob - Choreografin/Performerin
Maija Karhunen – Performerin
Nir Vidan - Performer

Projektbeschreibung:
"Travelling to the four corners of the earth" von Miriam Jakob ist das Konzept für ein kammerspielhaftes Tanz- und Performancestück, das in teils tragischer, teils humorvoller Weise soziale Interaktionen untersucht. Gemeinsam mit Maija Karhunen und Nir Vidan überführt diese Arbeit grundlegende aktuelle Forschungsschwerpunkte der Choreografin zum Thema Zaudern und der Übertragbarkeit von inneren Qualitäten aus dem Zustand eines Fragments in ein mehrteiliges längeres Stück. Dabei werden die Inspirationsquellen Lyrik (Ricardo Domeneck: "Körper: Ein Handbuch"), Klang (Lonski & Classen Arpeggien) und Videoprojektion (Hiroyuki Yamada - Kotodama) unter dramaturgischer Beratung von Antonia Baehr zu einer umfassenden Arbeit geformt, die in Kooperation mit der Tanzfabrik Berlin im Herbst 2014 erstaufgeführt werden soll. Die Premiere ist für Herbst 2014 in den Uferstudios Berlin geplant.


---

Tanztendenz München e.V. wird gefördert
durch das Kulturreferat der LH München
www.miriamjakob.de
---

Miriam Jakob
is exploring the expectations and inner borders of the audience and performers in performances lecture performances, films and installations. Her work creates spaces of desire, where the mechanisms of validation loose their meaning and the borders to the "Other" blur. Her body of work contains the lecture-performance "Malinowski" (2011) as well as Friday, 23.1.1915 [sic] "as usual, sorry that I do not always..." (2012), for which she recently gained the 100° Festival Jury´s price of HAU and Sopiensaele, Berlin. Furthermore she collaborates with the artistwin deufert+plischke and the musician Felix Classen. Besides the Solo-Adaption of Deborah Hay's score "Dynamic" that premiered this spring at Tanzquartier Vienna, she is currently working with the performers Maija Karhunen and Nir Vidan. She studied social anthropology and psychology in Munich, Buenos Aires and Berlin where she received her master degree in 2010. Recently she graduated the BA programme "dance, context, choreography" at the Interdisciplinary University of Dance Berlin.