> back
---



>

> 2008 > 2009 > 2010 > 2011 > 2012 > 2013 > 2014 > 2015 > 2016 > 2017

> 2018

> 2019

> 2020

> 2021

> 2022

> 2023

> 2024

> 2025




Here are announced performances of members and studio users of Tanztendenz, as well as all events taking place at Tanztendenz and schwere reiter.
Workshops see training.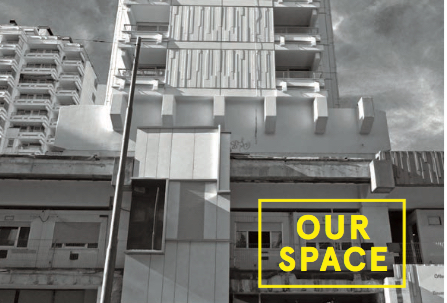 November 17 to 25, 2017
5th International Choreographers' Atelier :

spaces we live
> Diverse Orte
Choreographers of Tanztendenz München e.V. invite artists and choreographers from Germany and abroad to jointly research and work on the theme of "Space/Room" in all its facets, both metaphorical and real. The approach to the theme may include spatial and bodily politics with historical, personal and current references, as well as geopolitics, mental interior rooms, art spaces and/or urban planning.
The mix of practical exercises, shared excursions and public lectures by high-carat presenters generates a medially heterogeneous yet thematically focused week with films, lectures, showings and discussions.
The evening events are open to the public and offer their audience the opportunity to grapple with the theme of space and to experience and discuss its various aspects.
The Choreographers' Atelier takes place in the anniversary year "30 Years of Tanztendenz."


---
Public Lectures at Tanztendenz
Saturday, November 18, 8:00 p.m. – Tanztendenz


Marcus Steinweg: Empty Space (Lecture in English)



To think means to surrender oneself to the madness of an acceleration which carries the subject beyond its objects. It does not give birth to them. It pulls them toward itself because it is already there, where no object had been. This is the empty space between the present and the future. What Gilles Deleuze calls Becoming occurs in this space. Beyond history in the midst of history.



Sunday, November 19, 8:00 p.m. – Tanztendenz
Franziska Konitzer: A Cosmic Standpoint Localization (Lecture in English)

This much is nearly certain: we find ourselves in a universe that has been continually enlarging for approximately 13.8 billion years. The Laniakea Supercluster contains the Local Group of galaxies, to which the Milky Way galaxy belongs. And in one of the spiral arms of the Milky Way is a more or less unspectacular star with a mostly blue planet orbiting around it. That's us! But where exactly are we? How can possibly know all this when, strictly speaking, we're all firmly stuck on the Earth's surface?




Public Lectures at schwere reiter




Monday, November 20, 8:00 p.m. – schwere reiter
Dominic Eskofier: Introduction to Virtual Reality:
Enlivening a Stage with Unlimited Possibilities

In this lecture by Dominic Eskofier, Head of Virtual Reality in EMEAI at Nvidia, we learn how immersive technologies such as VR could potentially transform the world of theater. The stage has no boundary and the props have no limits in the virtual world. How might an actor handle this situation? What challenges arise? And how can this world of unlimited possibilities be used to blaze new trails for storytelling?



Tuesday, November 21, 8:00 p.m. – schwere reiter
Lars Henrik Gass: Film and Art after Cinema: An Objection

On the cinema as a location, "a mental space in which one no longer observes, reflects upon or imagines a reality, but is lost in time and compelled to perceive." "The cinema was the place that took away my freedom and suggested another life which is diametrically opposite to my opinion about the world."



Wednesday, November 22, 8:00 p.m. – schwere reiter
Axel Krüger: Prison Architecture

Axel Krüger's lecture focuses on the architectonic challenges involved in the planning of extremely closed and enclosing spaces. PLAN2, his architectural office, is also well known for the buildings it designed for the judiciary in Munich, Bremervörde, Zwickau, Frankfurt and Saarbrücken.



Thursday, November 23, 8:00 p.m. – schwere reiter
Birgit Wiens: Theater Architecture as a Blueprint for Society:
Walter Gropius and Francis Kéré

The question of new spatial concepts has been a recurrent theme in theatrical and architectural discourse since the beginning of the 20th century. As examples, this lecture focuses on two projects in modern and contemporary theater architecture: Walter Gropius' "Total Theater," which was designed on commission from Erwin Piscator as a "spatial machine" and a "communal theater that would unite people" (1927, never built); and Francis Kéré, whose "Satellite Theater" (for Chris Dercon's Volksbühne in Berlin/Tempelhof, 2017, partially realized) alludes to Gropius' visionary concept nearly half a century later. The theatrical-aesthetic, spatial-theoretical, socio- and (cultural-) political implications of both projects will be discussed.



Friday, November 24, 8:00 p.m. – schwere reiter
Thomas Dörfler: Spatial Images and Reality: On the Genesis of Concepts of the World



A short history of the development of understandings of space from prehistory to the postmodern era, from Altamira to GoogleMaps: What consequences does today's concept of the simultaneity and relationality of space have for our daily lives? What does it mean when our notions of space nowadays are almost exclusively cognitive and no longer haptic, sensory or atmospheric? The lecture concludes with examples from urban development and architecture to present what Lefebvre calls the "lived space" as the repressed of the modern understanding of space.






---


Venues
Tanztendenz
Lindwurmstraße 88 / 5. Stock
80337 München
U 3 + U 6, Stadtbus 62 + N 40, Haltestelle Poccistraße

schwere reiter tanz
Dachauer Straße 114
80636 München
www.schwerereiter.de
Tram 12, 20, 21, Bus 53, Haltestelle Leonrodplatz


---


Admission
Admission to all events is free. Registration is not required.

---


An event of Tanztendenz München e.V.
With kind support from the Cultural Office of the State Capital City of Munich and District Council No. 9 Neuhausen-Nymphenburg. This project is made possible by the Bavarian State Association for Contemporary Dance (BLZT) with funds provided by the Bavarian State Ministry for Education Cultural Affairs, Science and Art.


---


Tanztendenz Munich e.V. is sponsored
by the Munich Department of Arts and Culture
Guests
Karolína Hejnová (Tschechische Republik), Mario Lopes (Brasilien), Akemi Nagao, (Japan/Berlin), Fearghus Ó Conchúir (Irland),
Laura Pante (Italien)

Hosts
Stephan Herwig, Ceren Oran,
Moritz Ostruschnjak, Micha Purucker

Lecturers
Marcus Steinweg (Philosophy), Franziska Konitzer (Astrophysics), Dominic Eskofier (VR),
Lars Henrik Gass (Film),
Axel Krüger (Architecture),
Birgit Wiens (Theaterwissenschaft),
Thomas Dörfler (Humangeografie)


THIRTY YEARS OF TANZTENDENZ MÜNCHEN e.V.
Five choreographers, supported by the Cultural Office of the State Capital City of Munich, co-founded Tanztendenz München e.V. in 1987 with the goal of improving the conditions for contemporary dance and making it easier for artists to work independently and in a self-determined way. The association presently includes 25 members.

Under the leitmotif "Artists for Artists," the objective of Tanztendenz München e.V. is to create a free space for dance: for research, experimentation and finalizing; with openness toward regional, national and international guests; and with diverse formats for sharing, networking and discussion.

A central component in the association's self-image is to provide practical support for artistic projects produced by their creators. For this purpose, Tanztendenz München e.V. operates three studios and an organizational office in Lindwurmhof. Under the name "schwere reiter tanz" and with a concept of its own, the association is co-initiator and operating partner of the schwere reiter performance venue, which is operated together with partners PATHOS München and schwere reiter MUSIK in the future Kreativquartier.

The "Open Studios," "Standpoint.s – welcome to my world," "side-kicks" and "Choreographers' Atelier" formats successfully strengthen the autonomous profile and reaffirm the association's purpose. In creative collaboration and thanks to unpaid voluntary work by the association's members, self-determined work is facilitated in an environment that appreciates and protects the artistic process.

Tanztendenz München e.V. is grateful for longstanding support and trusting collaboration with the Cultural Office of the State Capital City of Munich. We and also thank our partners, patrons and colleagues in Germany and abroad, as well as all the artists who have accompanied us during the past thirty years.