> back
---
> 2008
> 2009
> 2010
> 2011
> 2012
> 2013
> 2014
> 2015
> 2016
> 2017
> 2018
> 2019
> 2020
> 2021
> 2022
> 2023
> 2024
> 2025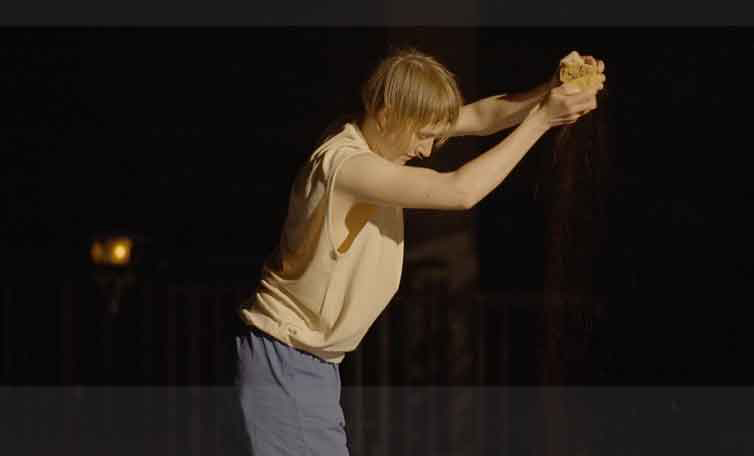 May 15 to 16, 2021 / SAT 11 pm, SUN 11 am + 5 pm - VIDEO-STREAM


DANCE 2021: Judith Hummel


Wo komme ich her? Etappe 2
Ungarn - Schwarzer Fleck
Altes Betonwerk Sendling / Sugar Mountain

Grind words between teeth and tongue, produce red powder from bricks, follow memories, use the body, do tangible actions, and leave new traces behind while searching for traces ...
At Altes Betonwerk Sendling, the performer from Munich Judith Hummel and the musician Evi Keglmaier set out on a physical journey searching for fragments of a past life. Searching for her origins, a granddaughter follows the traces of her grandmother. Her grandmother fled from the Banat region in Romania during the last years of the war and came to Germany. Her route also went through Hungary, but the memories of this remain a "black spot." In an anecdote the grandmother tells about how as a child she ground bricks to make red bell pepper powder for her make-believe grocery store. This stage of the performative research "where do I come from?" emanates from these themes.

What thoughts and associations on the subject of "origins" move you? We invite you to write this down on a postcard, which we will be happy to send to you.
Please send us your postal address by email to: kontakt@beatezeller.de, with this subject heading: Re: Black Spot
Your personal data will be used exclusively for sending the postcard and will be deleted immediately afterwards. The answers will be used to provide Judith Hummel with impulses for material for Stage 3 of this project.
Thank you for your participation!

Artistic Direction, Performance: Judith Hummel
Performance, Voice, Accordion, Viola: Evi Keglmaier
Camera, Editing: Laura Kansy
Collaboration, Choreography: Heidi Schnirch
Collaboration, Scenic Design, Speaker: Ruth Geiersberger
Dramaturgy: Ulrike Wörner von Faßmann
Lighting Design: Charlotte Marr
Set Design: Katrin Schmid
Costume Design: Theresa Scheitzenhammer
Sound engineer: Nicolas Sierig
Production Management: Veronika Heinrich / Rat & Tat Kulturbüro
Graphic Design: Stephanie Roderer
Public Relations: Beate Zeller

Programme sheet PDF


---

Venue
Altes Betonwerk Sendling / Sugar Mountain
Helfenriederstraße 12
81379 München
Sugar Mountain

---

Tickets
For the video-stream go to: DANCE
After the matinee the audience is invited to participate in the artistic talk.

---

Digital world premiere on May 15th as part of DANCE 2021 international festival of contemporary dance of the City of Munich. The project is supported by NATIONALES PERFORMANCE NETZ - STEPPING OUT, and sponsored by the Federal Commissioner for Culture and the Media, as part of the initiative NEUSTART KULTUR; the Dance Support Program; and the Cultural Foundation of Stadtsparkasse München. It is also made possible by the Bavarian National Association for Contemporary Dance (BLZT) with funds from the Bavarian State Ministry for Science and Art. Judith Hummel is a member of Tanztendenz München e.V.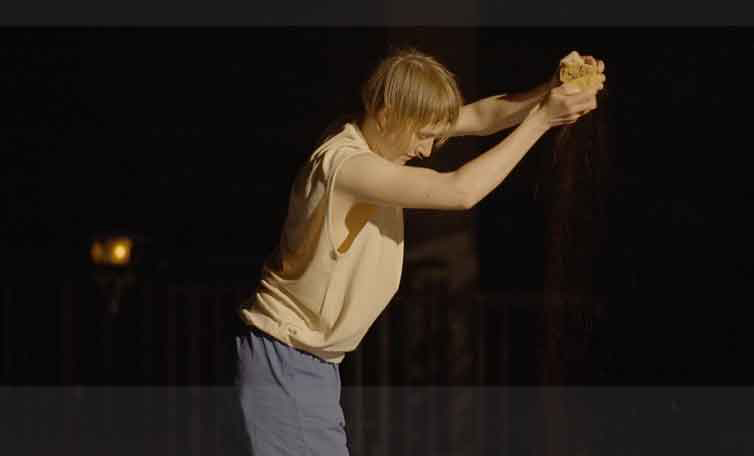 ---

Tanztendenz Munich e.V. is sponsored
by the Munich Department of Arts and Culture