> back
---
> 2008
> 2009
> 2010
> 2011
> 2012
> 2013
> 2014
> 2015
> 2016
> 2017
> 2018
> 2019
> 2020
> 2021
> 2022
> 2023
> 2024
> 2025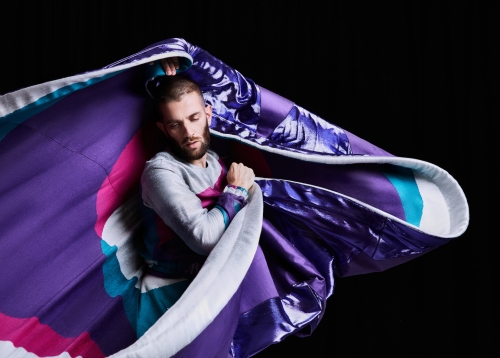 November 19 to 21, 2021 / 8 pm
Léonard Engel


Parotia
schwere reiter
"Parotia" is a performance for three spinning dancer, inspired by sources as diverse as the Egyptian folk dance Tanoura, the choreographic work of Loïe Fuller or Oskar Schlemmer and the Bauhaus movement. By creating a piece at the intersection of middle-eastern dance and our western choreographic heritage, Léonard Engel explores the physical and visual properties of the act of whirling, and invites the audience to an hypnotic and sculptural dance piece.

"During my research for "Parotia", I was very fascinated by how the act of spinning has always appeared in different cultures and for different reasons: as a means to reach a trance-like state (in ancient Greece), to connect with a god (Sama of the dervishes), to create impressive visual effects (Tanoura) or to expose the underwear of Bavarian and Tyrolean women (Dirdnldrahn). Even in ballet there is this tradition of 32 fouettés." (Léonard Engel)

Starting from the simple movement of spinning, Engel develops a choreography that slowly changes the spectators' perception of space and body. Dressed in heavy multi-layered costumes created by Josa Marx, the three dancers become kinetic sculptures in continuous transformation, reconfiguring themselves in space, while the shimmering patterns of the fabrics underline the hypnotic effect of the spinning. The bodies of the dancers merge with their costumes and lose themselves in abstract forms until they disappear completely behind the hustle and bustle of the colours and figures.

"For me, this piece is about exploring the idea of kinetic sculpture. The dancers wear very heavy, multi-coloured skirts, which we treat as objects to abstract the performers' bodies. The resulting forms live only through the centrifugal force of the spinning movement and would fall apart if the performers stopped spinning - it is the disappearance of the body through movement, the transformation into an abstract form." (Léonard Engel)

First glimpses can be seen in the trailer: trailer
And here: Interview with Léonard Engel on "Parotia "

---

Team
Dance: Gizem Aksu, Lisa Stertz, Angelo Petracca
Choreography: Léonard Engel
Costume: Josa Marx
Komposition: 9T Antiope
Light: Matthias Singer
Production management: Miria Wurm
Technical direction, Light technic: Rainer Ludwig
Sound technic: Josy Friebel
Costume making: Christin Wanke
Fabric production: Weberei/Noël Saavedra
PR: Simone Lutz

---

Venue
schwere reiter
Dachauer Straße 116
80636 München
Tram 12, 20, 21 or Bus 53
Station Leonrodplatz
www.schwerereiter.de

---

Tickets
17,- / 10,- Euro erm.
Reservierung unbedingt erforderlich: www.schwerereiter.de

---

Produktion: Léonard Engel / Koproduktionspartner: PACT Zollverein
Das Projekt ist gefördert durch das Kulturreferat der Landeshauptstadt München und wird unterstützt durch das NATIONALE PERFORMANCE NETZ Koproduktionsförderung Tanz, gefördert von der Beauftragten der Bundesregierung für Kultur und Medien, ermöglicht durch den Bayerischen Landesverband für zeitgenössischen Tanz (BLZT) aus den Mitteln des Bayerischen Staatsministeriums für Wissenschaft und Kunst.
Mit freundlicher Unterstützung durch Tanztendenz München e.V.

---

Tanztendenz Munich e.V. is sponsored
by the Munich Department of Arts and Culture